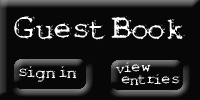 I am adding this page so fellow knifemakers can chat with me or other makers in a safe chat room,rules are simple:

No Cussing

or being rude to others.

Please use this chat room as a place to talk to each other and ask questions.I will try and be on here as much as possiable,but I still have to make knives.Please enjoy yourself while you are on here.

Bruce

If you have trouble emailing questions to me Please use this guest book as a question and answer forum from me or othermakers that can answer a question I cant.Anyone can add Q@A'S or just read what has been asked and answers to them.I cannot make this let you know when I have posted a answer so just check back in and check for the answer,I will get notifications when someone has posted a entry so I should be able to answer quickly.Please use this only for Q@A's..

Thanks,

Bruce

Sorry I havent been in here for awhile,Been ill and will hope to be here soon.I will let everybody know when I will be here on Blade Forums....Bruce